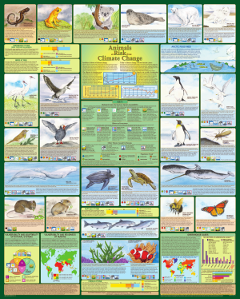 The Poster
"Animals at Risk from Climate Change" features 25 animals that highlight the fundamental impacts of greenhouse gases—causes, effects and risk of extinction—on all forms of life on the planet. Through illustrations, symbols and brief explanatory text, the complex interaction of biological traits and environmental conditions that cause a species to be susceptible to climate change are made simple and understandable. Comprehensive and thoroughly documented, this poster is a valuable and relevant educational aid.
24" x 30" full color educational poster, printed on FSC certified recycled paper.
Laminated: US $18.95 Add to Cart Folded to 8" x 10": US $10.00 Add to Cart
Wholesale/Bulk Rates
Folded:
Qty Unit
10 to 49 @ 6.50 US$162.50 plus 15.00 shipping (within the US)*
50 to 99 @ 6.00 300.00 plus 20.00 shipping (within the US)
case of 100 @ 5.50 550.00 plus 20.00 shipping (within the US)
Laminated:
Any quantity: @ $11.40
*To accommodate our international trade all prices are in US Dollars.
Please inquire for shipping rates to Canada and other countries
Credit card orders are processed by Sunship Distributors.