Table of Groundwater Contamination in the US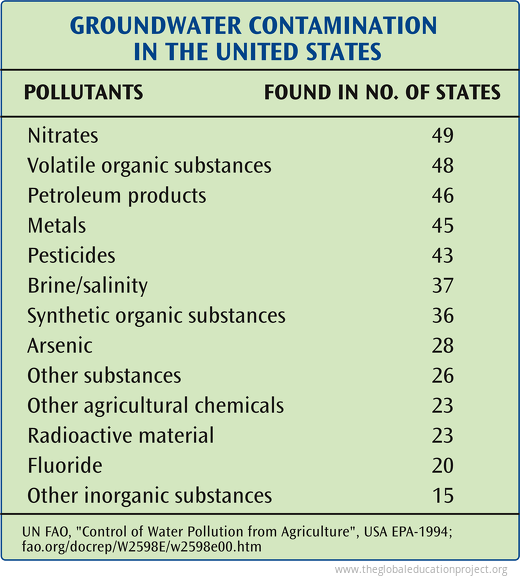 "60% of the most hazardous liquid waste in the United States, 34 billion liters of solvents, heavy metals, and radioactive materials, is injected straight into deep groundwater via thousands of injection wells..." [1]
"The industries requiring the most water are petroleum refining, food processing, metals, chemical processing, and pulp and paper... the industrial use of water... creates toxic and hazardous pollutants that renders waste water unfit for subsequent human consumption or use in the agricultural sector; these conditions can also permanently pollute aquifers. The expansion of industry to the developing world, in addition to local human contamination of fresh water supplies, is making it more difficult to maintain water quality." [2]
2005 version of this table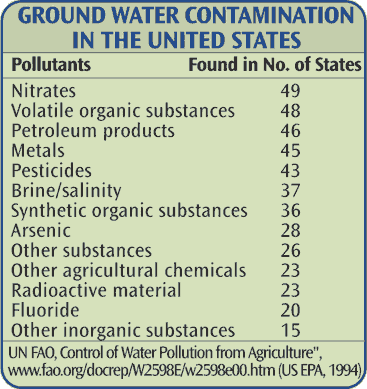 Sources
UN FAO Control of water polution from agiculture
1."Deep Trouble: The Hidden Threat of Groundwater Pollution", Payal Sampat, Worldwatch Paper 154, Dec. 2000, worldwatch.org
2. "The Strategic Importance of Water", Kent Hughes Butts, Parameters, http://carlisle-www.army.mil/usawc/Parameters/97spring/butts.htm
Tags: groundwater contamination, drinking water pollution, groundwater pollutants, groundwater contamination in the us, toxics-biotechnology
Sign up for EARTH Dispatches
Enter you email below to get jaw dropping charts and maps delivered straight to your inbox.
Get the EARTH presentation
A 150 page high-resolution PDF containing all maps, charts and data on EARTH website; use as an information-packed educational slide show, printed booklet or a set of single-page handouts.
Learn More