| | | |
| --- | --- | --- |
| | Find Out How To Get the Most Complete and Compact Educational Package on Earth. | |
Get a jump on your educational efforts with the Earth wall chart, a unique and timely educational tool you can't afford to ignore.
"Visually and factually stunning..."
- Alan Solomonow, American Friends Service Committee
Dear Visitor,
Are you concerned about the world your children will live in tomorrow, about the environmental and human crisis of today, and about the future of the planet? Have you tried to raise awareness with others and been met with disinterest or disbelief? Have you ever wondered where you could find a single source for getting the REAL PICTURE about what's happening to the world?
Then you've come to the right place.
Because today you can get access to the most compact, comprehensive, and reliable single-source overview of the planet - IN THE WORLD - guaranteed.
The Earth wall chart features over 99 carefully chosen charts, maps and graphs designed to bring you a clear and penetrating look at the world's most critical issues and the ways they relate to each other.
Some of what you'll find on the stunning 27" x 36" Earth wall chart:
The key information on the world's energy supply -- who has it, who needs it, and approximately how long it's going to last
The condition of the world's forests, laid out in a simple bar graph.
The shocking truth about changes in the distribution of wealth in the United States during the last 20 years
How to dispel any doubt about the truth of climate change with one simple chart
"Why a Wall Chart?"
You probably know that many people -- perhaps most people -- are not aware enough about the environment to be effective at making change, or taking the vital step of getting others educated and involved. But
we want to change that.
That's why we put up this web site with the results of years of research on it, completely free, in the most accessible format we could come up with - graphs and maps where one can SEE the state of the world. The web site is visited by over 100,000 people like you each year.
"With this on the wall you are sure to spark visitor or student interest. The presentation is visually attractive and the information is properly referenced with reliable sources."
- Robert Sanford, Associate Prof. of Environmental Science & Policy University of Southern Maine
But the internet has limitations.
Can you carry your computer in your back pocket to pull out whenever you need an important fact?
Can you put your computer up on the wall where your relatives and friends can't avoid looking at it? Can you spread your computer out in front of a class of eager students and watch the glow of comprehension spread across their faces? NO, OF COURSE NOT!
That's why we published the Earth wall chart. Because
the facts need to be seen.
See It With Your Eyes.
Humans are suited to understand things
visually, not just mentally
. Research has shown that people learn many times faster if they can SEE what they're learning, rather than just thinking about it.
With the Earth wall chart, you get the data in a
graphic
format - Easy to see, easy to understand, and
pretty
(I know the state of the world isn't pretty, but we've been amazed at how many people have exclaimed about how beautiful the wall charts are -- Alan Solomonow of the AFSC called it
"visually stunning,"
and comments about our
previous wall chart
included words like
"magnificent"
and
"beautifully produced"
)
"The poster is great and I plan to use it a lot. Already shared it with other teachers and they love it too."
- Jean D'Angelo, High School Agriscience Teacher
"Just the Facts"
There's nothing like a political agenda to make good information hard to swallow. With this in mind, the Earth wall chart includes only
well referenced, nonpartisan data, giving you a reliable foundation for thorough education on the issues that matter most
. Each map, graph and chart is accompanied with a source reference, most of which are accessible online. We didn't just want to find the most important information about the planet. We also had to find information that was reliable enough that nobody could contest it. And that's what you get with the Earth wall chart.
"A Book on One Page ... And More"
Packed with over 99 incredible charts and maps
, the
Earth
wall chart gives you what you can't get anywhere else: a concise overview of the state of the entire planet on a single page.
Using this wall chart you can:
Gain a quick comprehension of the world's most important issues -- the ones that have the potential to threaten the future of life as we know it -- we've put together the most important info so you don't have to.

Put the wall chart up on your wall for convenient, time saving education -- whether for yourself, your friends, students, co-workers, whatever -- everyone has something to learn from this wall chart, guaranteed.

Get all the data you need in one place. Comprehensive, impartial information on a wide range of issues.

Travel with a convenient, portable storehouse of reliable facts about the planet, handy for on-the-spot conversations or educational opportunities. EARTH supplies the hard facts and figures when and where you need them.

Be certain you've got it right. Each chart, map, and graph is referenced to an authoritative source.
No debates on questionable facts. Easy and quick to verify.


BUT THAT'S NOT ALL!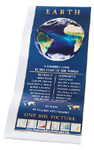 The GEP No-Risk Guarantee
We're
so sure
you'll be totally DELIGHTED with the educational power of the Earth wall chart, we're offering a
complete no-risk guarantee
-- if you're not 100% satisfied that the Earth wall chart is the best single resource on the state of the planet IN THE WORLD, simply return it within 30 days for a full refund.
YOU CAN'T LOSE with our 100% Satisfaction Money Back Guarantee.
New! - Package Discounts
Get the Earth wall chart together with the new
Earth Presentation Package
and
receive a 30% discount on your entire purchase!
Or,
get 10% off your combined order of a laminated Earth wall chart and a folded pocket version!
Hurry, ORDER TODAY!
View the order form for details and more great package discounts!
To quickly and securely order your Earth wall chart,
P.S.
Our previous wall chart covering the Middle East is in use by over 400 colleges and universities in Canada, US, and internationally, as well as thousands of individuals and organizations.
Click here
to find out what some of them had to say about the Middle East wall chart. The 27" by 36" Earth wall chart is available folded (fits in your pocket), or laminated for a beautiful long-lasting finish.
Any questions?
Ask here!
See what activists, educators and students are saying about Earth:
"Very useful for educators and students around the world" - Diileep Bhagwut, Science & Technology Education, UNESCO

"Wow! A really great and useful site. I will certainly use it in my teaching." - Dr. Dickson Despommier, Columbia University

"...a comprehensive information source for anyone who cares about the world that our children will inherit from us." - Maria Pop, Rodale Institute

"These great posters will be provided to all science teachers in our local school district from grades 6-12 as a curriculum supplement." - Alejandra Roman, National Council for Science and the Environment

"...a wonderful resource." - S. Shields, Oklahoma Dept. of Environment

"The poster is great and I plan to use it a lot. Already shared it with other teachers and they love it too." - Jean D'Angelo, High School Agriscience Teacher

"Very useful in helping us develop materials for various projects and for students in the secondary grades." - Sonia Giovannina Vani, Council of Canadians

"...an awesome site. I have only begun to explore it. But what a tremendous resource." - Robert McAfee, Executive Director, Arkansas Environmental Education Association

"Your poster is ideal for my teachers' institute - rich in data on many different facets of the earth system... This data will provide a rich source of questions to drive inquiry..." - David L. Smith, Ph.D., Director of Professional Development, Da Vinci Discovery Center, Allentown, PA