WAS THERE A COHERENT GROUND PLAN
FOR THE GIZA PLATEAU? PERHAPS.
The Giza Plateau was meticulously surveyed by W.M.F. Petrie in 1883 and J.R. Cole in 1925. Their measurements for the mean side of the Great Pyramid differed by only 0.6 in. Using Petrie's measurements, converted to Egyptian cubits (1 = 20.62 inches or 0.52375 meters), John Legon discovered an apparent dimensional relation incorporating a circle squared, 1000 Ö2and 1000 Ö3 in the overall layout of the three main pyramids.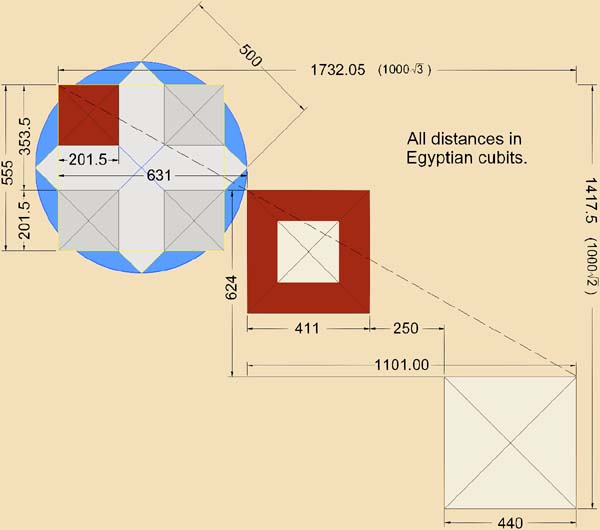 Ground Plan of the Giza Plateau, as discovered by John Legon in the 1970's, showing (left to right) the Third Pyramid, Second Pyramid and Great Pyramid.
Previous | Contents | Next
Articles Index
Please Email .
© 2000 R.McKenty . All rights reserved.
Updated September 15, 2000.
http://www.sunship.com/egypt/giza/pyramid4.php