THE OLD KINGDOM DYNASTIES
Family Lineages of God/Man/Kings
(Identified by one of the several names of the Pharaohs)
First Dynasty

First and
Second Dynasty
3300 - 2778 bc
Narmer/Menes
Aha
Djer
Djet
Den
Ddjib
Semerkhe
Qaa
Second Dynasty
First and
Second Dynasty
3300 - 2778 bc
Hotepsekhemwy
Raneb
Ninet Jer
Peribsen
Khasekhem
Third Dynasty
2778 - 2693 bc
Sanakht
Necherikhe-
Djoser
Sekhemkhe
Khaba
Huni
Fourth Dynasty
2693 - 2563 bc
Snofru
Khufu
Radjedef
Khafre
Menkaure
Shepseskaf

Fifth Dynasty
2563 - 2423 bc
Userkaf
Sahure
Neferirkare
Shepseskare
Raneferef
Niuserre
Menkauhor
Isesi
Unas
Sixth Dynasty
2423 - ? bc
Teti
Pepi I
Merenre
Pepi II

Apparently, in the short period of 150 years, the family lineage
of the 4th Dynasty achieved a building program
of such awesome scope and intensity that it remains
unequaled in the recorded history of the world.
Current consensus amongst Egyptologists is that 28 of the 87 pyramid complexes were built during the 3rd–6th Dynasties. Each large pyramid with its associated "satellite" pyramids, temples, enclosure wall, causeway, village, and cemetery has become associated with a particular pharaoh and is believed to have been built during his lifetime. The first of these stone monuments, the step pyramid at Saqqara, is attributed to Djoser (Zoser), 2nd pharaoh of the 3rd Dynasty.
Besides design, engineering, project infrastructure, labor management and materials administration, they quarried, moved, dressed, fitted and mortared 75% (roughly 22 million tons) of all the stone used in the 500 years of the pyramid age. The 4th Dynasty is credited with having built the 7 largest and most enduring of the pyramids, 5 of which are the only intact ones left. The first monarch of this lineage,

Snofru

, is credited with building at least two pyramids using almost 9 million tons of stone during his reign of 44 years.


The Bent Pyramid at Dahshur, attributed to Snofru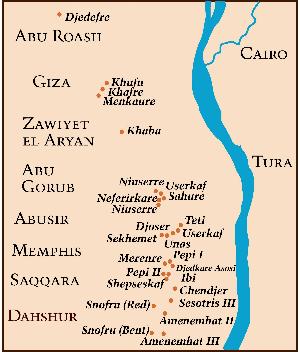 Three of the largest 4th Dynasty pyramids and several large temples were cased in granite, much of it brought from Aswan, 500 miles to the south. At Giza huge limestone blocks were used, many weighing 100 or more tons each. The list of unprecedented engineering "firsts" ascribed to this lineage is lengthy. The 4th Dynasty is credited with all the major construction at Dashur, Abu Roash, Zawiyet el Aryan, and the Giza Plateau. At the end of this Dynasty, the skills seem to have been lost. The pyramids built later were not of the same extraordinary quality and none are still intact. Although many of the pyramids contain a stone box or "sarcophagus", no royal burials have been found in any pyramid in Egypt.