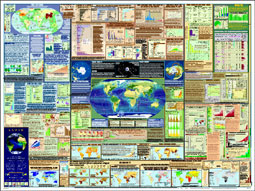 Click to view the Earth wall chart.
Sample charts and maps:
Global Currents and Terrestrial Biomes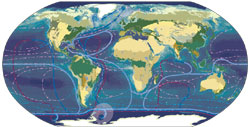 Soil Degradation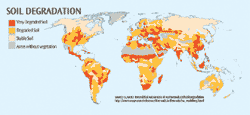 Debt Service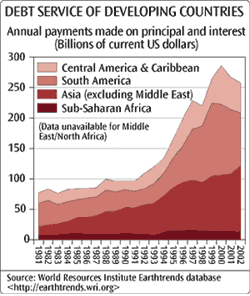 Life Expectancy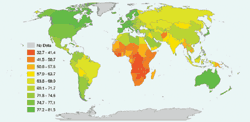 Global Fisheries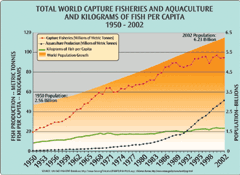 GDP Per Capita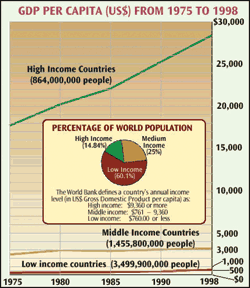 About the Global Education Project's Earth Wall Chart:

The Global Education Project is a Canadian non-governmental organization with a 15-year history of publishing fact-packed educational wall posters and producing live events to educate about important issues. The Global Education Project's previous poster on the Middle East is being used by over 200 colleges and universities in Canada, US, and internationally, as well as thousands of individuals and activist organizations.

In 2005, the Global Education Project's production team compiled an unparalleled collection of broad-based factual information on the state of the world's environment and distilled it into a series of jaw-dropping charts, maps, and graphs, now available on the wall poster Earth: A Graphic Look at the State of the World.

The information takes a bold look at a wide range of environmental issues-from climate change and species extinctions to debt, population, and food supply-giving a rare visual overview of the state of ecological and humanitarian conditions over the entire biosphere.

Designed to provide solidly irrefutable factual information on issues that are widely talked about but less frequently understood, the poster uses data from the United Nations, official government agencies, academic sources, and well-respected NGOs.

As well as being an invaluable teaching tool and reference piece, the poster, through the source citations that accompany each map and chart, is an index to over 150 sources of environmental and humanitarian data, most of which are available on the web, making it even more useful to activists, educators, and researchers.

The 27" by 36" wall chart is available folded ($15.95) or laminated ($29.50) and can be purchased over our secure online form, through bookstores in Canada and the US, or ordered from:

The Global Education Project
PO Box 241 Mansons Landing, BC
V0P 1K0 Canada

tel.: 250.935.6785

Back to the index


Some comments about
the Earth wall chart
NEW - Take the Earth Quiz!
How much do you know about the state of the world?
For Educators:
A perfect starting point for catalyzing discussion about the state of the world; compact, comprehensive and meticulously referenced.


For Scholars and Students:
Each component on Earth is rigorously footnoted to a reliable and authoritative source.


For Activists:
A densely packed resource of facts at your fingertips; an unparalleled teaching tool and potential fund raiser


For Policy and Decision Makers:
A summation of the core data of the most crucial issues facing all humanity; succinct, accurate and concise.



Recent Earth Events
Earth: A Multimedia Presentation on the State of the Planet.

Cortes Island, BC - June 7
Quadra Island, BC - June 8
Courtenay, BC - June 10

What's Next

Cortes Island, BC - June 17 and 18


Email earthevents@theglobal educationproject.org or call 250-935-6785 for details.